Close Customers, Train Agents, & Track Progress with:
The REVOS Technology Suite
Technology built by insurance agents - for insurance agents!
A comprehensive CRM, Reporting, and Lead Generation Solution
The Revolt Vanguard Operating System - White-label ready!
The REVOS Technology Suite Handles: 
Lead Generation + Marketing Support
Step-By-Step Customer Sales Journeys
Step-By-Step New Agent Recruiting, Training, + Onboarding
Reporting + Analytics – For Complete Organizational Transparency
eLearning System
Healthcare Concierge Service
This streamlined system provides an efficient, guided process to close clients and recruit/train new agents, reducing operating expenses, so that even the newest agents can start closing faster!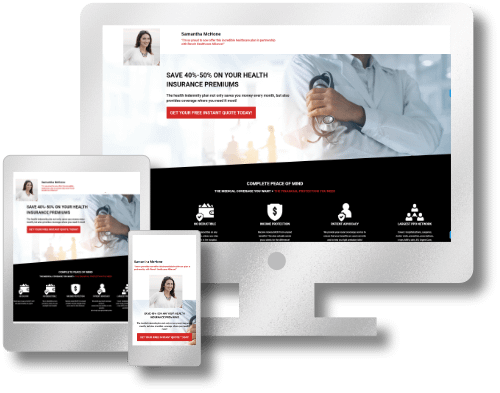 Ask about our subscription model to turn your agents into customers!
Agents Using REVOS Experience:
The only CRM with our proven sales process Built-in!
Step-By-step Customer Sales Journey
Each agent receives a landing page
to manage their own customer pipeline
The Instant Quote form on each landing page performs 2 functions: 
Automatically sends a quote to the client 

Moves the client into the agents pipeline to be closed
Once inside the REVOS system the agent is presented with step-by-step instructions to educate and close their new lead.
How well does the REVOS
lead generation & Conversion Strategy Work?
Conversion Rate = (Total Form Submissions / Total Page Views ) X 100
Average Conversion Rates VS REVOS:
Across Industries Average Landing Page Conversion Rate = 2.35%
Top 10% Convert At 11.45+%
REVOS Landing Page Conversion Rates As High As 41.8%
REVOS Conversion rates out-perform averages across industries!
Lead Generation + Marketing Support
Digital leads are more qualified and
less expensive to acquire than traditional phone leads.
Our team of digital marketers uses the latest technology and strategies to acquire, qualify, and convert prospects into digital leads for agents to close inside the CRM. Newly acquired leads are placed into an agents pipeline within minutes of entering the REVOS system.
REVOS agents receive customized marketing
resources to manage every aspect of their sales pipeline.

Every agent gets access to social media graphics, pre-written post content, and a strategic content calendar, so that they know exactly what to post and when to post it. They also receive custom landing pages to convert traffic into leads through an integrated instant quote form.
The REVOS Reporting Capabilities Are Robust:
Customizable dashboards for each agent show them if their production is on-track for the month, and the organizational dashboard lets you see how your agency is producing at a glance.


Run specific reports to see how many leads your agents have in each stage of the selling process.


Marketing analytics to track email open rates and customer velocity help tighten up the sales process.
REVOS INCLUDES A CUSTOMIZABLE LEARNING PLATFORM
Inside Your Branded University Agents Can:
Get licensed
Learn about your product
Learn how to sell your product
Learn the latest sales, marketing, & social media techniques
Receive access to our team of marketing & tech support specialists
The Best Part? 
Agent progress is monitored for follow-ups, agents can work through the material as fast as they like, and agents have continual access to the university – they have on-demand access to the material at all times!
ATTN: HEALTH INSURANCE AGENTS!
REVOS ALSO GIVES YOU ACCESS TO OUR HEALTHCARE CONCIERGE SERVICE
Increase your client retention & free-up your agent's time by offering healthcare concierge service, which will assist your clients in using their benefits!
Healthcare Concierge Provides year-round support to help clients:
Pre-Plan and Pre-Price Healthcare Services/Procedures
Process Claims
Get The Most Out Of Their Plan Benefits